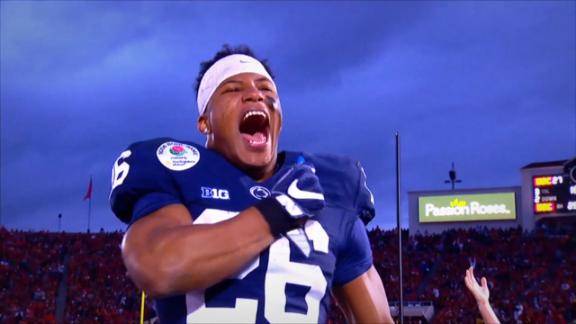 Running backs and offensive linemen went through workouts at the NFL combine on Friday, the first day of drills for the top prospects for the 2018 NFL draft.
ESPN NFL draft experts Mel Kiper Jr. and Todd McShay recap how the best backs and linemen?– including? Saquon Barkley, Sony Michel, Orlando Brown and Quenton Nelson — fared, and Scouts Inc. analyst?Steve Muench breaks down the under-the-radar prospects who are rising up draft boards. We'll also look ahead to Day 2 of workouts, as the quarterbacks, receivers and tight ends will participate in testing and drills on Saturday.?
Click the links below to skip to each section:?
How best prospects fared | Biggest risers | What to watch for Saturday
What was the biggest takeaway from workouts?
McShay:?As I'll touch on below, my biggest takeaway was that Barkley was as advertised. He?crushed his workout and is the clear No. 1 running back prospect. I was also impressed with the athleticism some of the developmental offensive linemen exhibited. Desmond Harrison (Western Georgia) and Brian O'Neill (Pittsburgh), among others, had terrific days.
Kiper:?Barkley was the biggest story of the day — he was phenomenal. But UCLA offensive tackle Kolton Miller was the second-biggest story of the day.?He?had the best workout of any of the offensive linemen, showing supreme athleticism for a guy in a 6-9, 309-pound frame.?I had Miller in the first round of? my latest Mock Draft, and he showed why on Friday.
---
How the top prospects fared
Here's how the potential first-round picks from this group performed on Day 1 of workouts:

Saquon Barkley, RB, Penn State
Scouts Inc. position rank:?No. 1
Adrian Peterson had the most impressive combine workout I've seen in person, running a 4.40 40-yard dash at 217 pounds, with a 38.5-inch vertical and 10-foot, 7-inch broad jump. Well, Barkley ran the same blistering 40 at 233 pounds and had a 41-inch vertical jump. He caught the ball well during drills, too. I haven't spoken with a person who doesn't like this kid, from spending five minutes or hours with him. He couldn't have done any more today to help his stock, and has put more pressure on the top three teams to select him. A home run day.?–? McShay
Derrius Guice, RB, LSU
Scouts Inc. position rank:?No. 2
Let's be clear: It's Barkley and everyone else in this class at running back. That said, Guice ran a good 40 at 4.49, but at 224 pounds. His vertical jump was a bit disappointing as well at 31.5 inches. Those numbers aren't the end of the world, but are somewhat alarming. I thought he struggled to track the vertical ball in pass catching a bit as well. His pro day will be important. –? McShay
Sony Michel, RB, Georgia
Scouts Inc. position rank:?No. 3
It was a disappointing performance for Michel. He's the lightest of the top backs at 214 pounds, and while he ran a 4.54 in the 40, I thought he'd be faster based on his game tape. He's still has the most meat on the bone to put up good numbers for scouts. Work to do in the process for Michel. –? McShay
More notes on the top running backs:
Of the running back prospects not named Saquon Barkley, Nick Chubb had the most complete workout. His broad jump of 10-8 was three inches clear of the historically elite line and his vertical of 38.5 inches surprised me. He quietly put together a very good performance.
Ronald Jones II had a disappointing day, pulling up with an apparent hamstring injury in his first 40-yard dash attempt. I was looking for a better 40-yard dash time from Rashaad Penny (4.46 at 220 pounds).
Bo Scarbrough?had an awesome day, putting up a 40-inch vertical (second behind Barkley), 10-foot, 9-inch broad jump (best of RB group) and a 4.52 40 at 228 pounds. He also measured in with 10-inch hands. If his medicals check out, he could be on the rise.? –? McShay
Kolton Miller, OT, UCLA
Kiper's?position rank:?No. 1
Miller's 10-foot, 1-inch broad jump was?the longest by an offensive lineman since 2006. Those are freaky numbers for a 6-9 offensive tackle. Miller 's?4.91 40-yard dash was third-fastest?among the linemen, and he also had a vertical jump of 31.5, which was tied for fourth among linemen. He's an athlete, and a team is going to fall in love with his traits.?–? Kiper
Quenton Nelson, OG, Notre Dame
Kiper's?position rank:?No. 1
Nelson is a top-five prospect in this class, and?nothing I saw at the combine made me change my opinion. The 35 reps on the bench press were extremely impressive. He showed some athleticism with a vertical jump of 26.5 inches. Nelson tweaked his hamstring and didn't run the 40-yard dash, but he'll get a chance to run at Notre Dame's pro day. –? Kiper
James Daniels, C, Iowa
Kiper's?position rank:?No. 1
Daniels solidified himself as the top center in this class, but that's because the prospect he was competing with — Ohio State's Billy Price –? tore his left pectoral muscle?on the bench press. Daniels didn't run the 40-yard dash because of a hamstring injury, but he had a 30.5-inch vertical and ran 7.29 seconds in the three-cone drill, which was among the best of all the linemen. He's athletic and could be picked in the 20s in April. — Kiper
Orlando Brown, OT, Oklahoma
Kiper's?position rank:?No. 2
Brown was extremely disappointing in athletic testing. At 6-8, 345, we knew he wasn't a stellar athlete. But 14 reps on the bench press, a 19.5-inch vertical jump and a 5.85 40 is poor. He bombed his first job interview in front of NFL teams. Now, it doesn't necessarily mean he will tumble down draft boards. His tape is solid, and he dominated edge rushers in the Big 12. Brown badly needs to bounce back at his pro day and put up better numbers in front of scouts. –? Kiper
Mike McGlinchey, OT, Notre Dame
Kiper's?position rank:?No. 3
There were no red flags for McGlinchey's measureables, as he came in at 6-8, 309. He's just OK athletically — 28.5-inch vertical; 8-foot, 9-inch broad jump — and that's why I see him better as a right tackle. His strength is in his technique, when he can drive defenders off the ball in the run game. Like his former teammate Nelson, McGlinchey tweaked his hamstring and didn't run the 40-yard dash. –? Kiper

Bo Scarbrough, RB, Alabama
Scarbrough put up just 14 reps of 225 pounds on the bench — 13 or fewer is a red flag for backs — but he had the best broad jump (10 feet, 9 inches) and tied Auburn's Kerryon Johnson for the second-best vertical (40 inches) out of all the backs. Those are both outstanding results for a running back. At 6-foot-1 and 228 pounds, Scarbrough tied for the sixth-fastest 40 time, running it in 4.52 seconds. The five-year combine average weight for a running back is 213.4 pounds and the five-year combine average 40-time is 4.59 seconds. He has excellent length (33?-inch arms) and big hands (10 inches) which he used to extend his arms and catch the ball away from his frame during drills. We don't know how he checked out medically, and he looked a little tight at times during drills, but his results in these key areas will help him.?–? Muench
Nick Chubb, RB, Georgia
Chubb posted the second-best broad jump (10 feet, 8 inches), tied for the fourth-best vertical jump (38.5 inches) and tied for the most reps of 225 pounds on the bench with 29. Those are three outstanding results in key tests for backs. At 5-foot-11 and 227 pounds, his 4.52 40 time tied for sixth among the backs and blunted concerns about his top-end speed. While he didn't show great change of direction during drills or testing, the explosive lower-body strength he showed in his testing shows up on the tape and he did catch the ball well. As with Scarbrough, we don't know how Chubb checked out medically.?–? Muench
Wyatt Teller, OG, Virginia Tech
At 301 pounds, Teller is 15 pounds lighter than the five-year combine average for offensive guards. But at 6-foot-4 with 34-inch arms and 10?-inch hands, he has an excellent frame for an offensive guard and tested well. He benched 225 pounds 30 times despite his arms being half an inch longer than the five-year combine average for guards and his 9-foot, 6-inch broad jump is an outstanding result for an interior offensive lineman. He didn't run as fast as Gossett, but Teller's 5.24 40 is a quick time for a guard. He showed quick feet and good balance during the on-the-field drills. His tape is a little inconsistent and he would do well to fill out that frame, but he clearly has the tools to be an effective starter and he could move into the Day 2 conversation as a result.?– Muench
---
What is one thing you're looking for on Day 2 of workouts?
Kiper:?Louisville quarterback Lamar Jackson isn't going to run the 40, but he's going to throw. It's important to see how he fares against the other top signal-callers. There's a chance he's going to sneak into the first round in April, but he needs to show accuracy on Saturday.
McShay:?I'll be watching the QBs like Kiper, but I'm also interested in the seven wide receivers who measured at 6-4 or above (most since 2003 combine). How many of these guys can show off explosiveness and agility during on-field drills and make scouts and teams go back to the tape?